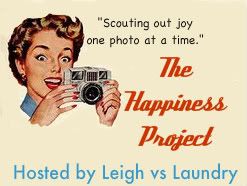 On Tuesdays Leigh at Leigh vs. Laundry sponsors a happiness project. Generally participants post a lovely picture of something or someone that brings them joy (or makes them happy, since that is what the project is called). But yesterday I came across something that made me so happy, I couldn't wait to share it with you today. Its actually a blog that I stumbled across (my sister told me about it). I seriously considered quitting my blog because this guy, John Acuff is saying everything that I've wanted to say but haven't yet. I just want to start a blog that says "Go see Stuff Christians Like". Its poignant, hilarious, sarcastic, occasionally irreverant, and yes, the man has a couple of book deals and I'm thrilled for him. That's an example of Stuff Christians like.
So go here to see what makes me happy
http://stuffchristianslike.net/2010/04/2691/
This particular post, called "Thinking You're Naked" rocked my world!
Also check out #491 "Saying Let's Pray when You Mean Let's Make Out"
And today's poll about "How to tell a Christian Performer on American Idol"
Be Happy!!