(In other words, if you've got something to smile about, inform your
face so the rest of us can enjoy it!--paraphrase DWM)
Please note I AM participating in Leigh's Project Happiness today!
Keep reading until you find the lovely lady with the camera towards the end of today's post.
Thanks for caring.
Thank you
Prairie Maid
for the awesome award! I do like to be happy!
Prairie Maid
has one of those beautiful, peaceful blogs that urges you to sit on the porch with a glass of cold lemonade and soak in the breeze and sunshine. You should pay her a visit. You'll be glad you did...unless you don't like lemonade and sunshine.
According to the rules of this blog I will now share with you ten things that make me happy.
1. The smile on a child's face.
2. Chocolate icing surrounding the smile on a child's face.
3. Chocolate icing surrounding the smile on my husband's face.
4. Licking the chocolate icing surrounding the smile on my husband's face.
5. Hoping you're at least smiling, if not chuckling at that last comment.
6. My blog title. I get more comments about that than anything and it was a "gift from God".
7. Smelling the sweet honeysuckle, jasmine, tea rose and gardenias during the spring.
8. Knowing that I'm not allergic to number 7.
9. Knowing I don't have to prune and nurture #7. Either my husband does it or they just run wild!
10. This picture of the dogwood in the front yard.
Are you 'happy' yet?
Here's five happy folks that I'd like to turn this award over to as well. I think because of #6 , I'll reserve this award to those whose blog names also make me smile, or make me happy!
1.
A Dusty Frame
One of the first blogs I ever started following. The name alone makes me smile.
2.
A Southern Belle Trying Not to Rust
(I hear you smiling!)
3
.
Under Grace and Over Coffee
4.
Writing Without Periods
(I actually asked these ladies did they dislike punctuation or were they post- menopausal? Turns out...its both!)
5. Finally, my favorite west-area, convertible traveler:
The Shadow of my Life
As reciepient of these awards I would ask you also list ten things that make you happy, this pass it on to five other well-deserving bloggers, if you want to. If you don't want to pass it on, that's really okay too.
There you have it. And notice I'm including in this scrump-dilly-ishus day of happiness, a blog hop back to
Leigh vs. Laundry.
So hop over there, hop to the above happy places. (You can participate in the Happiness Project there as well)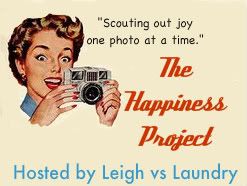 WHERE IS YOUR HAPPY PLACE?